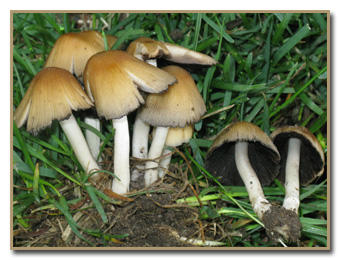 Mica Cap

Order Agaricales, family Agaricaceae

CAP COVERED WITH WHITE GRANULES WHEN VERY YOUNG

Cap: 1-4 cm wide, 2-4 cm high; bell-shaped becoming convex with very small grooves; pale brown to rusty tan, slightly lighter at cap edge; very young specimens covered with white dust-like granules
GILLS GRAY THEN BLACK, TURNING SOMEWHAT INKY

Gills: attached; close; gray then black

STALK FRAGILE WITH NO RING

Stalk: 2-7 cm long; 3-5 mm thick; hollow, white, fragile

LARGE CLUSTERS AROUND STUMPS ABOVE GROUND OR BURIED; USUALLY BURIED WOOD IN LAWNS

EDIBLE

SPORE PRINT BLACK

Lookalikes:

Alcohol Inky Cap (C. atramentarius) -- grayish cap with no white granules; remains of ring on stem
YOU MIGHT ALSO LIKE TO KNOW...

The mica cap is especially prolific in spring, often fruiting on stumps or roots of dead trees. (You could say that this mushroom marks the graves of dead trees.) The roots are buried, so it appears to be growing on the grass. Unfortunately, dirt clings to them and, because they are so small and densely clustered, are a chore to clean. They're easiest to deal with and best to eat when very young.
Mushrooms in cookies? You bet! This recipe is for the "granola-heads" who like to pack fiber when they bike or hike. The cookies are kept soft by the addition of the mushrooms. They are high in calories and carbohydrates, but low in fat. Great energy food. They will store in the refrigerator for two months. I make several batches and take them out when my eight-year-old niece and I bike or play. (She likes them, and I need them to keep up with her!) When I make this recipe with mica caps (C. micaceous), I measure all the ingredients, grind the dry fruit and grease the baking pan before I go over to the park by my home to collect the mushrooms. The mica cap will grow all summer in the parks because of the irrigation, but it deteriorates quickly in the heat. I have lost fully a third of my cluster by waiting four hours after picking to cook them. Clean them by quickly running water over the caps.

Good For You Mica Cap Cookies

3 medium-sized ripe bananas
1/3 C vegetable oil
2 t vanilla extract
1/4 t ground nutmeg
1/4 t ground allspice
1/8 t ground cinnamon
1/8 t salt
3/4 C chopped raw mica caps, cleaned, dark gills cut off
1-1/2 C rolled oats
½-3/4 C fine grain oat bran
3/4- 1 C coarsely ground mixed dry fruit (mix is apples, figs, dates, and a few raisins)
3/4 C chopped walnuts

Preheat oven to 350. Grease two cookie sheets. Coarsely grind the dry fruit in a meat grinder and set aside.

Mash the bananas in a large bowl. Use your hands to work in the oil, vanilla, spices, ground fruit, nuts and mushrooms.

Add the rolled oats and ½ cup of the oat bran. Work the dough and continue sprinkling oat bran in until the dough is stiff enough to stand on its own. (Remember, mushrooms release moisture as they cook so the cookies will loosen as they bake.)

Use a teaspoonful of dough for each cookie -- five across and seven rows down on a standard cookie sheet -- and bake for 15-18 minutes. Store in a tightly closed container in the refrigerator.
blog comments powered by