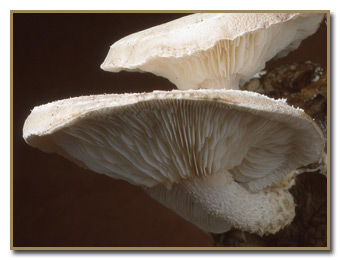 (Also known as Lentinus lepideus)
Train-Wrecker
Order Agaricales, Family Tricholomataceae
CAP YELLOW-WHITE WITH BROWNISH SCALES
Cap: 5-15 cm wide; convex to flat; yellowish or whitish, usually with brownish scales; distinctive odor
GILLS BECOME SERRATED WITH AGE
Gills: attached; whitish, turning yellowish or brownish; edges serrated (saw-toothed) with age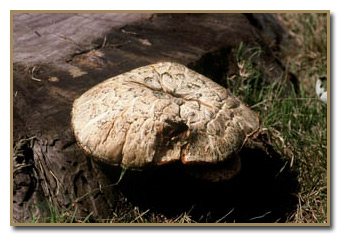 STALK SCALY BELOW WHITISH RING
Stalk: 3-10 cm long, 1-3 cm thick; brownish scales below ring; solid, tough
Partial veil: whitish ring on upper stalk
SPORE PRINT WHITE
Spores 6.5-12 x 2.5-3.5 µm, narrowly elliptic, smooth, thin-walled
ON DECAYING WOOD, FENCE POSTS
EDIBLE
YOU MIGHT ALSO LIKE TO KNOW....

The "train wrecker" is unlikely to cause train crashes these days because railroad ties are treated with chemical preservatives, preventing this mushroom from eating away railroad ties and causing a train to derail.

The train wrecker is hard to find, but occasionally appears on wood, sometimes buried wood, in the city. It's a leathery edible, but good—especially young specimens.

A famous Lentinus that's much easier to find in cities is Lentinus edodes or shiitake. Check out Asian markets for great deals on dried shiitake. Less tough and more subtle in flavor, the fresh variety—available at many grocery stores—are a real treat. You can grow your own on the kitchen table with a mushroom kit.
blog comments powered by