(Also known as Lepista nuda)
Blewit
Order Agaricales, family Tricholomataceae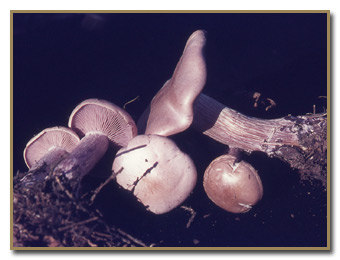 CAP CONVEX, LILAC FADING TO GRAY
Cap: 4-14 cm wide; convex with enrolled cap edge when young, becoming uplifted and wavy with age; pale lilac, fading to gray; fruity smell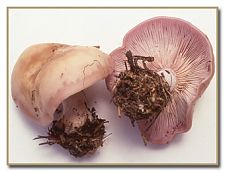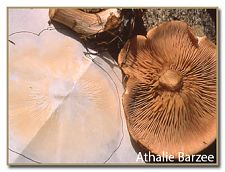 GILLS SLIGHTLY DESCENDING DOWN STALK
Gills: slightly descending down stalk; close; grayish purple fading to buff
STALK SOLID, ENLARGED AT BASE
Stalk: 3-7 cm long, 1-3 cm thick; often enlarged base; solid; lilac to gray; often mycelium (white hairs) visible at base
SPORE PRINT PINKISH BUFF
ON DECOMPOSING ORGANIC MATTER
EDIBLE, CHOICE
Lookalikes:
C. irina -- not purplish
YOU MIGHT ALSO LIKE TO KNOW...

This is an uncommon mushroom in the city, but a prized edible. As mycologist David Arora writes in his excellent field guide, Mushrooms Demystified, "[The Blewit] has the dubious distinction of being one of the few purple foods that actually tastes good. It is even popular in fungophobic England and Scotland, where is it sometimes sold in markets." Some specimens are more purple or lilac than others. Don't throw a gray blewit in the compost pile with the Chlorophyllum molybdites. Conversely, don't eat all purple mushrooms. Some may be poisonous.
blog comments powered by