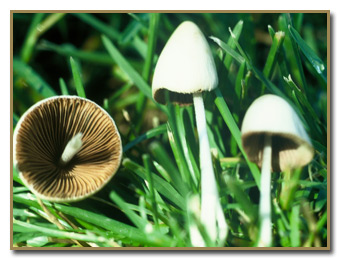 White Dunce Cap
Order Agaricales, family Bolbitiaceae
CAP LIKE A WHITISH DUNCE CAP
Cap: 1-3 cm wide; dunce cap shape, narrowly conical, then becoming more bell-shaped with the cap edge flaring up slightly; irregular wrinkles, white to buff, especially at center
GILLS WHITE THEN BROWNISH
Gills: free or nearly free; very narrow; whitish becoming cinnamon brown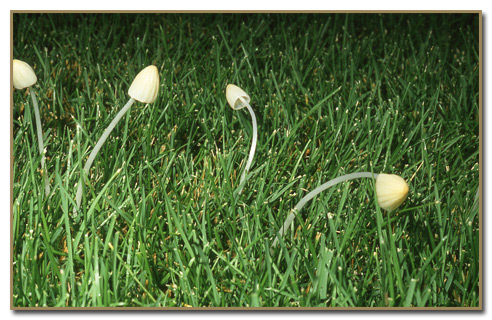 STALK WHITE, FRAGILE WITH NO RING
Stalk: 3-10 cm long, 1-2 mm wide; fragile, hollow; often breaks under weight of cap
SPORE PRINT CINNAMON BROWN
ON LAWNS
NOT EDIBLE
Lookalikes --
Brown cone head (C. tenera group) -- darker cap and stem
YOU MIGHT ALSO LIKE TO KNOW...

You'll have to get out of bed before the sun heats up the grass to find this mushroom. It quickly dries up in the mid-morning, or the stem breaks under the weight of its cap. But—though it's not worth a special trip out of bed—this very common, grass-growing fungus is fun to find. You can almost imagine the dunce caps coming alive in a Disney show in your back yard.

Look for little white dunce caps at cut-grass level when you're up early sometime.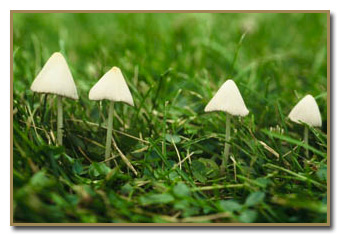 blog comments powered by