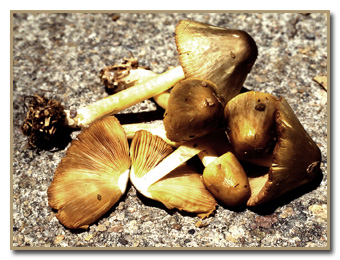 Yellow Bolbitius
Order Agaricales, family Bolbitiaceae
CAP YELLOW TO GREENISH, VISCID, BELL-SHAPED TO CONICAL
Cap: 2-6 cm wide; conical to bell-shaped when young, sometimes flat with age; yolk yellow to greenish, becoming pale; slimy when moist; cap edge striated
GILLS PALE YELLOW THEN CINNAMON
Gills: attached then free; close together; narrow; pale yellow becoming cinnamon with age, edges minutely roughened
STALK LONG, FRAGILE
Stalk: 3-12 cm long, 1.5-6 mm thick; hollow; fragile; white to pale yellow; slightly hairy, gradual basal enlargement
SPORE PRINT RUSTY BROWN
Spores 11-14 x 7-8 µm, elliptical, smooth, with apical pore
ON HEAVILY COMPOSTED LAWNS, IN GARDENS, ON DUNG
TOO FLIMSY TO EAT
Lookalikes:
Inky caps (Coprinus sp) -- black spores
YOU MIGHT ALSO LIKE TO KNOW...

This common park-dwelling shroom is certainly as attractive as grass and flowers. But in our mycophobic (mushroom-hating) culture, the yellow bolbitius gets less respect than the most lowly "weed." Now you can break free from the chains of mycophobia and appreciate this fungus. You'll feel liberated. But don't try to pick a bouquet of these mushrooms to take home. They will wilt quickly.
blog comments powered by