Tree Volvariella
Order Agaricales, Family Pluteaceae
CAP EMERGES FROM EGG, WHITE
Cap: 5-20 cm wide; emerges from egg, becoming bell-shaped then approaching flat; white, sometimes yellowish; covered with fibrils, especially at edge
GILLS FREE, PINK
Gills: free; broad, crowded; white becoming pinkish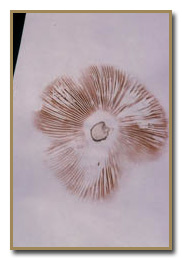 STALK WITH SAC-LIKE CUP AT BASE
Stalk: 6-20 cm, 1-3 cm thick; dry
Universal veil: egg-like universal veil leaves prominent cup at base; no ring
SPORE PRINT PINKISH
Spores 6.5-10.5 x 4.5-7 µm, elliptical, smooth
ON WOOD
EDIBLE
Lookalikes:
Amanita sp. -- white spores
Pluteus cervinus -- no volva (cup) at base of stem; brown cap
YOU MIGHT ALSO LIKE TO KNOW....

We've found this mushroom in wounded or dying maple trees and occasionally elms. Once, a specimen was growing from a hole in a Maple where a branch had broken off the main trunk. (This is one of the few mushrooms you have to look up to find, not down. Then you have to brave climbing a tree to pick it.)

A related species, Volvariella volvaceae, is the popular "straw mushroom" in Asian cuisine. Available in most Asian markets, the canned, cultivated variety looks attractive, but has no taste that we can discern. We're confident the wild variety tastes better, but we don't know anyone who's eaten it.