Black Elfin Saddle
Order Pezizales, Family Helvellaceae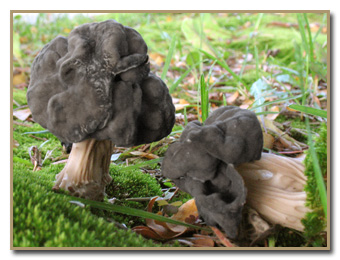 HEAD FOLDED IN LOBES OR SOMETIMES SADDLE-SHAPED
Head: 4-7 cm tall and 3-5 cm tall; convoluted – irregularly lobed, or sometimes saddle-shaped; margin attached to stalk at some points, gray-black to black, brittle, thin flesh
STALK WITH DEEP FURROWS
Stalk: 3-10 cm long, 1-3 cm wide; deep ridges which cross to form cavities (lacunose); interior chambered; white to gray
SPORES 15-20 x 11-13 µm, elliptic, smooth, one large central oil drop
ON GROUND AND IN LAWNS
EDIBILE, BUT NOT RECOMMENDED
Lookalikes:
Gyromitra – head also folded in lobes, not black. Some are poisonous.
Helvella crispa – it is white
YOU MIGHT ALSO LIKE TO KNOW....
This mushroom is eaten, especially in California, but be careful – it can be easily confused with the closely related false morels – the genus Gyromitra.
blog comments powered by