(old name – Pholiota destruens)
No Common name
Family Strophariaceae, Order Agaricales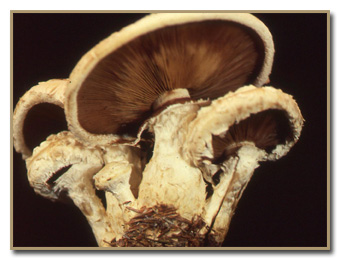 CAP LARGE, ROBUST WITH WHITE TO BUFF SCALES
Cap: 8-20 cm broad, convex, white to creamy, light brown in age, with scattered scales, margin shaggy with hanging pieces of partial veil
GILLS ATTACHED, WHITE THEN BROWN
Gills: do not descend stalk, attached to stalk, white when young, becoming brown at maturity.
STALK WITH RING; SHAGGY BELOW RING
Stalk: 5-15 cm long, 1-3 cm thick, smooth above ring, scaly or woolly below ring; white then dark in age
Ring: white, shaggy, loose, leaves evanescent ring on upper stalk or sometimes absent in age
SPORE PRINT CINNAMON BROWN
Spores 7-9.5 x 4-5,5 µm, smooth, elliptical
ON COTTONWOOD LOGS
NOT POISONOUS
Lookalike:
Pleurotus dryinus – white gills descending stalk; white spore print
Hypsizygus ulmarius - while gills and spore print
YOU MIGHT ALSO LIKE TO KNOW....
This mushroom is usually described as nonpoisonous, but not tasting good. It is a large, sturdy mushroom that typically fruits on the ends of cottonwood logs.



blog comments powered by