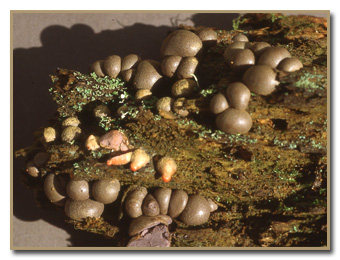 Wolf's Milk or Toothpaste Slime
Phylum Myxomycota, Order Liceales
FRUITING BODY CLUSTERS OF SMALL SPHERES, PINK THEN BROWN
0.3 – 1.5 cm round to cushion-shaped, pinkish gray then yellow brown to olive-brown in age, opening on top; warted or rough surface.
SPORE MASS bright pink, then purple, and finally powdery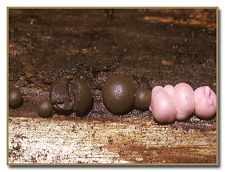 The young fruiting bodies are pink inside (a paste resembling toothpaste), and the mature fruiting body is powdery and pinkish-gray to ochre inside.
Spores: 6-7.5 µ, round, netted.
ON DEAD WOOD, CLUSTERED
NOT EDIBLE
YOU MIGHT ALSO LIKE TO KNOW....

Lycogala epidendrum is a "slime mold", which isn't a mushroom or even a true fungus at all. It has more in common with the amoeba or paramecium you find in pond water . We are including it because it resembles some fungi and is most often studied along with the true fungi.
blog comments powered by