Also known as: Morganella pyriformis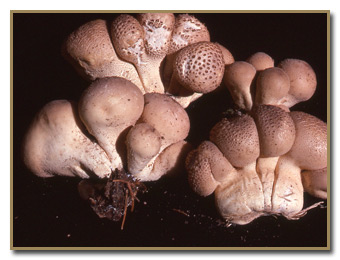 Pear-Shaped Puffball
Order Agaricales, Family Lycoperdaceae

FRUITING BODY INVERTED PEAR-SHAPED, NARROWING AT BASE, SURFACE WITH TINY SPINES, THEN SMOOTH
2-5 cm high; 1.5-5 cm wide; white, turning yellow-brown; inverter pear-shaped or spherical, narrowing to form a stem-like base. Surface with tiny spines when fresh and young; spines disappear when mature.
Spore mass inside mushroom firm, white, then yellow and finally powdery olive brown
Spores escape (puff) through pore at top
ON WOOD, MULCH, BURIED ROOTS, OFTEN CLUSTERED
EDIBLE
Lookalikes:
L. perlatum -- spines on young specimens
YOU MIGHT ALSO LIKE TO KNOW....

Look for the pear-shaped puffball on decaying wood or chips, often in garden mulch. It's edible if pure white inside.

This shroom is worth tasting if you find enough in the edible stage.
blog comments powered by