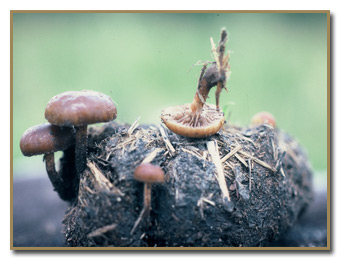 Meadow Muffin Mushroom
Order Agaricales, Family Strophariaceae
CAP BROWNISH, SLIMY WHEN MOIST, WHITE FRINGE WHEN YOUNG, TRANSLUCENT-STRIATE
Cap: 1-3 cm wide; convex, becoming flat with age; brown to red-brown, fading to grayish; viscid when moist; margin with white patches when young
GILLS GRAYISH THEN PURPLE BROWN
Gills: attached; not crowded, broad; grayish brown becoming dark brown with age
STALK NOT BRUISING BLUE
Stalk: 1-5 cm long, 1-4 mm thick; whitish, becoming yellow-brown with age, but not bruising blue, equal, surface often squamulose when young
Ring: evanescent but often absent
SPORE PRINT DARK PURPLE-BROWN
ON DUNG, MANURED GARDENS & LAWNS
POSSIBLY MILDLY HALLUCINOGENIC
Lookalikes:
Panaeolus sp. -- black spores
Coprinus sp. -- spores liquefy
YOU MIGHT ALSO LIKE TO KNOW....

Mycologist David Arora calls the meadow muffin a "dung addict." (And I thought my shit-head brother Charlie was the only dung addict in the world!) No dung, no meadow muffin. So, you could encounter it in pastures or manured lawns and gardens. Its dung of choice is apparently the cow pie. In our experience, a visible piece of dung is required, usually horse manure.

This is one of the few species of the genus psilocybe that does NOT stain blue and, unlike its cousin the magic mushroom, it is not known to be very psychoactive. Some strains may be mildly hallucinogenic, but we know of no one who has eaten enough to feel any effect.
blog comments powered by