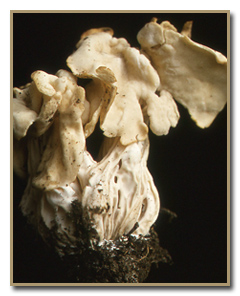 Fluted Saddle
Order Pezizales, family Helvellaceae
HEAD FOLDED IN LOBES OR SADDLE-SHAPED
Head: 1-5 cm wide and tall; saddle-shaped or folded irregularly; buff to pinkish; brittle
STALK WITH DEEP RIDGES
Stalk: 3-10 cm long, .5-3 cm wide; deep ridges; interior chambered; white to pinkish buff
SPORES 17-21 x 10-14 µm
ON GROUND OR ROTTING WOOD, IN LAWNS
Edibility: CAUTION
Lookalikes:
Gyromitra – head also folded in lobes, not black. Some are poisonous.
Helvella lacunosa – it is gray-brown to almost black
Morel (Morchella esculenta) -- deep pits, not folds
YOU MIGHT ALSO LIKE TO KNOW....

An unusual mushroom, the fluted saddle may pop up near coniferous trees. It falls into the group of shrooms that have a "head" rather than a cap like a "normal" mushroom. Don't be stupid and confuse the fluted saddle with a stinkhorn, which you're much more likely to find.
blog comments powered by