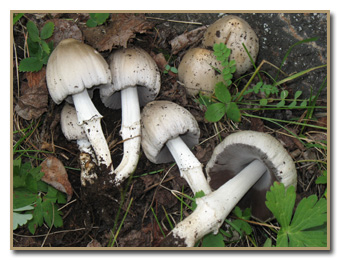 (Also known as Coprinus atramentarius)
Alcohol Inky Cap or Tippler's Bane
Order Agaricales, family Psathyrellaceae
CAP GRAY-BROWN, RADIALLY LINED
Cap: 2-8 cm high and wide; round or egg-shaped when young, becoming bell-shaped to conical then convex; deliquesces (becomes an inky black liquid) from cap edge to center; dry, smooth or silky; gray to gray-brown, radially lined
GILLS BECOME INKY
Gills: free; crowded, broad; white at first, then pinkish gray, then black and inky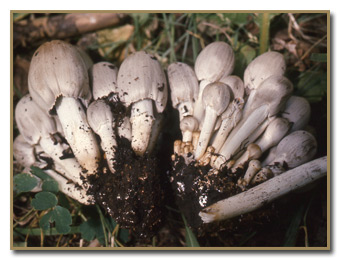 STALK WITH RIDGED ZONE
Stalk: 4-15 cm long, .6-2 cm thick; hollow; dry; white or with grayish fibrils
Ring: a ridged zone on mid to lower stalk
SPORE PRINT BLACK
Spores 6.5-10.5 x 4-6.5 µm, elliptical, smooth, apical pore
IN CLUSTERS ON DECAYING WOOD -ON LAWNS, ROADSIDES, OFTEN AT THE BASE OF LIVE OR DEAD TREES
EDIBLE WITH CAUTION
Do not drink alcohol for at least five days after eating
Lookalikes:
Mica cap (Coprinellus micaceus) -- a light brown cap
YOU MIGHT ALSO LIKE TO KNOW...

You could vomit violently if you drink booze after eating the alcohol inky cap, because a toxin in it interferes with your body's ability to metabolize alcohol. (See Poisonous and Hallucinogenic Mushrooms in Urban Areas)

With this in mind, here's a story Manny Salzman tells about finding a prime fruiting of the alcohol inky cap on a grassy strip next to the street:

Ordinarily, we leave these mushrooms undisturbed since they are obviously unacceptable companions to our pre-dinner drink. During the past few weeks, however, my teetotaler 81-year-old mother, an inky cap lover, had been visiting us. I got off my bike, kneeled on the grass, gathered and deposited the mushrooms in a paper sack. As I mounted my bicycle, I heard an angry voice, "They're my mushrooms. I water them." I replied, "I believe the grassy strip belongs to the City and the mushrooms belong to whoever finds them." The angry voice continued, "I'm a lawyer and I know my property rights. I pay taxes on the ground. I was planning to eat the mushrooms for supper tonight." I could not deprive a man of his supper. As I handed him my sack of inky caps, I smelled a strong aroma of alcohol on his breath. Since there was no report of inky cap poisoning at the Denver Poison Control Center that summer, a serious reaction apparently did not occur.

Another reaction to this mushroom -- at least in laboratory animals -- is temporary male sterility. This is probably why the enthusiasm has waned for developing an inky cap alcohol treatment program. On the other hand, could it be an alternative to vasectomies?

Despite all this, many people enjoy eating the alcohol inky cap. Mushroom chef Penelope Zeller (the author of the Penelope's Pantry sections) reports that Jeff Nichols, a dinner guest at her home, became so ill mixing this mushroom with alcohol that he really believed she was trying to poison him. But none of the other four people at the dinner party became sick. It turned out to be a rotten dinner party anyway, and it's not clear that the mushroom caused Jeff's sickness.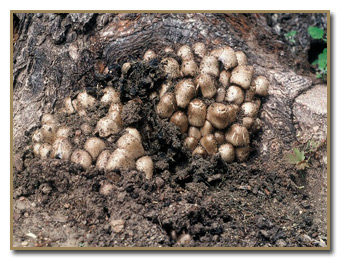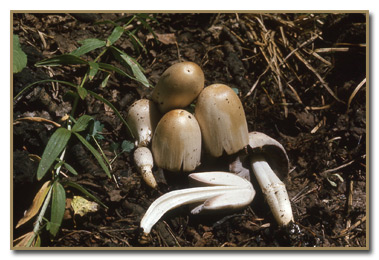 blog comments powered by