(Also known as Lepista irina)
False Blewit
Order Agaricales, family Tricholomataceae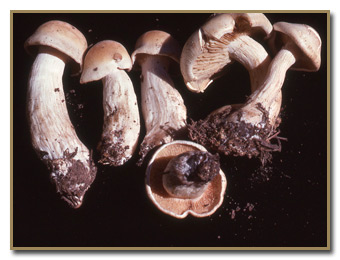 CAP WHITE TO TAN; STICKY; BROAD CENTRAL KNOB
Cap: 4-13 cm wide; convex; cottony margin inrolled at first whitish to dingy buff; sticky but soon dry
GILLS WHITISH; CROWDED
Gills: attached; crowded; narrow; white becoming pale pinkish
STALK GRAYISH WITH NO RING
Stalk: 2-5 cm long; 1-2.5 cm thick; grayish to buff, no ring
SPORE PRINT PALE BUFF
Spores7-10 x 4-5 µm, long elliptical, minutely roughened, thin walled
UNDER TREES, BUSHES, IN DUFF
EDIBLE
Lookalikes:
Blewit (Clitocybe nuda) -- bluish, purple color, inrolled cap edge
YOU MIGHT ALSO LIKE TO KNOW....

This is one of the first urban mushrooms we ate from our yard when we began collecting mushrooms in the city. Unfortunately, we haven't found it since, and we moved about 15 years ago. We felt we owed this mushroom the honor of being included on this website. But don't expect to see too much of it.
blog comments powered by