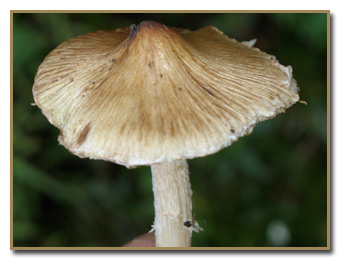 (Also known as Inocybe rimosa)
Corn Silk Inocybe
Order Agaricales, family Inocybaceae
CAP BROWNISH WITH KNOB, FIBROUS
Cap: 2-8 cm wide; conical becoming flat with prominent central knob; cap edge upturning, often split; yellow-brown to brown; fibrous; odor spermatic or mealy or lacking
GILLS WHITISH THEN BROWNISH WITH AGE
Gills: attached, becoming nearly free; narrow, crowded; whitish, then brownish with age
STALK FIBROUS WITH NO RING
Stalk: 4-9 cm long, 4-9 mm wide; fibrous
SPORE PRINT BROWN
Spores 9.5-14.5 x 6-8.5, elliptical, smooth
ON DUFF UNDER TREES
POISONOUS
Lookalikes:
Agrocybe sp. -- no fibrous cap
YOU MIGHT ALSO LIKE TO KNOW...

Inocybe rimosa is indistinguishable from dozens of other species of Inocybe. All in the genus are poisonous, and can be recognized by the distinct central bulb, radial fibrils and splitting edge.

Inocybe is a common genus in the mountains, but rare in the city. It has a "mycorrhizal" (my-coh-rise-ul) relationship with trees, which means the underground portion of the shroom (the mycelium) exchanges nutrients with the roots of the tree, benefiting both organisms. Most mushrooms growing in the mountains have mycorrhizal relationships with trees. But most urban mushrooms are not mycorrhizal.

Overall, the Inocybe genus is not all that exciting, and this urban variety is no exception. David Arora describes this genus this way: "Listless, lackluster...an endless, senseless, procession of drab browns, sordid yellows, dismal grays, and wishy-washy whites." They contain the same poison as Clitocybe dealbata, causing—among other problems—profuse sweating.
blog comments powered by