No common name
Order Agaricales, family Agaricaceae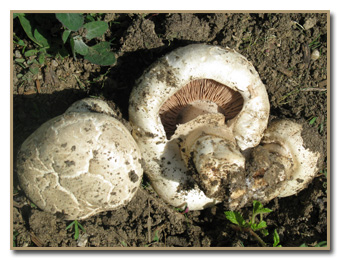 CAP LARGE, MARGIN STRONGLY INROLLED; SHORT AND STOCKY
Cap 1-20 cm broad, convex at first, margin strongly inrolled, becoming plane, disk frequently depressed at maturity; surface white, smooth, then with coarse scales. Flesh turning reddish-orange when cut. Often only partly emerged from the ground. Odor mild inland of brine or iodine on the coasts.
GILLS FREE, PINKISH THEN DARK CHOCOLATE BROWN
Gills free, close, pinkish-tan becoming brown, finally dark chocolate brown.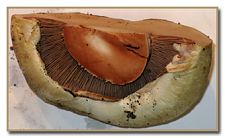 STALK NARROWER AT BASE, WITH SHEATHING WHITE RING, BRUISING RED
Stalk 4-13 cm long, 3-4.5 cm thick, smooth, veil membranous, sheathing the stalk rather than skirt-like, tough red-staining flesh
SPORE PRINT DARK CHOCOLATE BROWN
Spores 5.5-7.0 x 5.0-6.5 µm, smooth elliptical.
IN GRASS AND SANDY SOILS
EDIBLE, but some do not like the taste
Lookalikes:
Agaricus bitorquis – does not stain red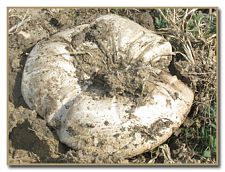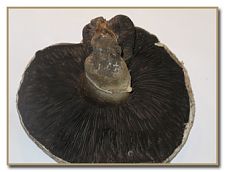 blog comments powered by