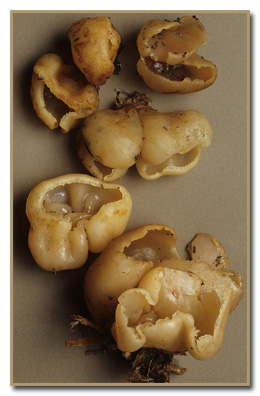 Common Dung Cup
Order Pezizales, Family Pezizaceae
FRUITING BODY: ALMOST A HOLLOW BALL, BECOMING CUP-SHAPED
Entire mushroom: 3-8 cm wide; rounded at first, becoming cup-shaped; outward-facing surface yellowish to brownish; underside lighter; interior flesh sometimes wrinkled or blistered
ON DUNG, MANURED GARDENS
EDIBILITY UNKNOWN
Lookalike:
Domicile cup fungus (P. domiciliana) -- not as rounded, often indoors
YOU MIGHT ALSO LIKE TO KNOW....

One of the great aspects of mushrooms is their diversity of shapes. This cup fungus looks more like a plastic mistake than anything else, but it's an example of a variety of shroom that looks loosely like cups. Most of them grow in the mountains, but you can find this city type in well-watered manured gardens.

The most famous cup fungus is the wood ear, auricularia polytricha, common in Asian cuisine and available in Asian and gourmet markets. You might know it as the crunchy, tasteless brown sting-like strips that slide around your bowl of hot and sour soup.

The edibility common dung cup is unknown—probably because it is so small.
blog comments powered by