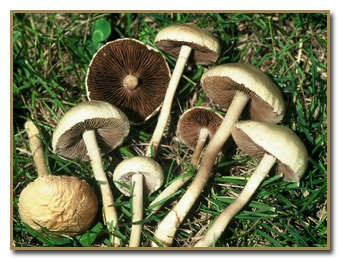 Common Agrocybe
Order Agaricales, family Bolbitiaceae
CAP ROUNDED, SMOOTH TO CRACKED, BUFF TO YELLOW BROWN
Cap: 1-4 cm wide; rounded to almost flat with age; smooth, sometimes cracked; buff to yellow brown, sometimes with whitish veil remnants on margin
GILLS BECOMING CIGAR BROWN
Gills: attached; broad, close; white becoming cinnamon brown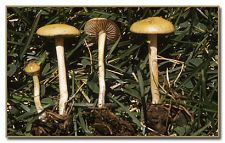 STALK SLIGHTLY DARKER AT BASE
Stalk: 2-6 cm long, 1.5-5 mm thick; color of cap, straight to twisted
RING: ephemeral, visible on buttons only
SPORE PRINT BROWN
Spores 9-13 x 6.5-8 µm, smooth, elliptical
SCATTERED TO NUMEROUS ON GRASS, WOOD CHIPS, DUNG
NOT WORTH EATING – too easily confused
Lookalikes:
Fairy ring mushroom (Marasmius oreades) -- white spores, wide-spaced gills
Cone head (Conocybe sp.) -- conical cap, small
YOU MIGHT ALSO LIKE TO KNOW...

Look for mass fruitings of this mushroom in spring and summer on wood chips around trees or in mulched city gardens. The smooth, rounded cap when young looks very different from the flatter cap of an older specimen, often with wrinkles and so many cracks it appears almost honey-combed.

Make your cigar-smoking friends take a look at the beautiful "cigar brown" spore prints with this mushroom.
blog comments powered by