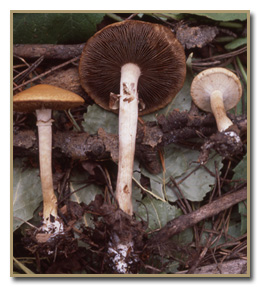 Spring Agrocybe
Order Agaricales, family Bolbitiaceae
CAP YELLOW-BROWN, CONVEX TO FLAT
Cap: 3-9 cm wide; convex to flat, sometimes with knob and uplifted edge; tan to yellow-brown; dry; smooth; veil remnants sometimes hanging on edge
GILLS WHITE THEN BROWN
Gills: attached; close; white then brown
STALK WHITE TO PALE YELLOW
Stalk: 3-10 cm long, .3-1.5 cm thick; white to pale yellow, white rhizomorphs at base
Ring: fragile, sometimes disappearing
SPORE PRINT BROWN
Spores 8-11 x 5-6, elliptical, smooth, apical pore
ON LAWNS, WOOD DEBRIS
EDIBLE BUT NOT WORTH IT
Lookalikes:
Inky caps (Coprinus sp.) -- black spores
Button mushroom (Agaricus sp.) -- thicker stalk, chocolate brown spores
YOU MIGHT ALSO LIKE TO KNOW...

If you're sitting on your porch having a refreshment and you look across your lawn, you won't see this mushroom. You won't be missing much, but don't let that stop you from looking for it. It's the "pursuit of happiness," not the attainment of it, that motivates us, right? So get up, and walk into your lawn. Unlike some city mushrooms like Panaeolus foenisecii, you won't have to get down on your hands and knees to find A. praecox. Just walk around and look down. Once you find and identify it, you can throw it in the compost heap and return to the porch—and take another sip or two of your refreshment.
blog comments powered by