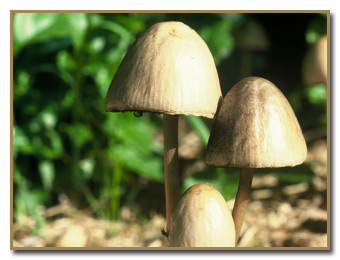 (Also known as Panaeolus campanulatus)
Bell-Cap Panaeolus
Order Agaricales, Family Psathyrellaceae
CAP BELL-SHAPED, BROWN-GRAY
Cap: 2-5 cm wide; bell-shaped; brownish to grayish; cap edge often hung with toothlike veil remnants
GILLS GRAYISH THEN BLACKISH
Gills: attached; broad; grayish then blackish; often mottled with white edges
STALK LONG, BRITTLE
Stalk: 6-14 cm long, 1-5 mm thick; brown-gray; brittle; often with gray fuzz
Ring: gone in mature specimens, fragments on cap margin
SPORE PRINT BLACK
Spores 11-18.5 x 7.5-12 µm, elliptical, smooth, apical pore, dextrinoid
ON DUNG, MULCH
EDIBILITY UNKNOWN
Lookalikes:
P. semiovatus -- larger with ring on stalk
YOU MIGHT ALSO LIKE TO KNOW...

The most common Panaeolus in most lawns is the haymower's mushroom (P. foenisecii), which is smaller than P. campanulatus and grows between blades of grass in the yard. P. campanulatus is not found as often in grass and is definitely not hallucinogenic. (We have no reports of children eating it and banging their heads or being scared of loving mom.) It is smaller than P. semiovatus, but has a darker cap and is often smaller.

Like most other Panaeolus species, this mushroom has mottled gills with white edges. This means that the flat sides of the blade-like gills have lighter and darker zones, sort of like an irregular patchwork. (This is caused by the sequential maturation of spores in the gills.) The gill edge, which would correspond to the sharp edge of a blade, is often white.
blog comments powered by