(also known as Pleurotus ulmarius)

Elm Oyster
Family Tricholomataceae, Order Agaricales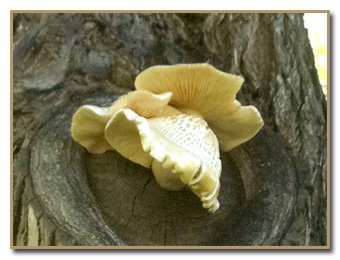 CAP WHITE, SINGLE TO CLUSTER OF 3
Cap: 5-28 cm wide; at first convex with inrolled margin, becoming flat; white, then light tan; surface becoming cracked with age and forming patches or scales ;growing from branch scars of living hardwoods, especially elm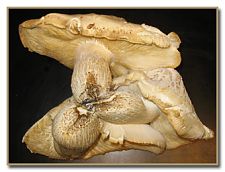 GILLS WHITE, NOT RUNNING DOWN STALK
Gills attached to stem, not decurrent (running down stalk); white becoming cream

STALK CENTRAL OR ECCENTRIC
Stalk: 5-15 cm long, 1-4 cm thick, smooth or occasionally hairy, white, solid, central or off-center

SPORE PRINT WHITE TO BUFF
Spores 5-8 µm, round or nearly round, smooth.

ON LIVING HARDWOODS, ESPECIALLY ELM; SINGLE OR CLUSTER OF 2 OR 3

EDIBLE, CAN BE TOUGH BUT TASTES GOOD

Lookalikes:
Hypsizygus tessulatus – much smaller, grows in clusters
Pleurotus ostreatus group – no stalk to short stalk; gills decurrent
Pleurotus elongatipes – longer stalk which becomes hollow
YOU MIGHT ALSO LIKE TO KNOW...
This is a large, sturdy mushroom growing from the branch scars of deciduous trees. This one was found in City Park in Denver Colorado, about 10 feet up on an elm tree. One mushroom hunter stood on the shoulders of another to reach it. We cooked a piece of that cap and it was delicious, tasting much like Pleurotus.
blog comments powered by