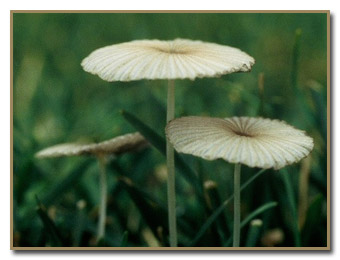 (Also knows as Coprinus plicatilis)
Japanese Parasol or Pleated Inky Cap
Order Agaricales, family Psathyrellaceae
CAP THIN, TINY, PLEATED
Cap: 1-3 cm wide; conical when young, becoming flat; grooved like a paper parasol; gray with brown disc at center; flesh thin, sometimes transparent
GILLS NARROW AND WIDE-SPACED
Gills: free; narrow, distant from one another; gray then black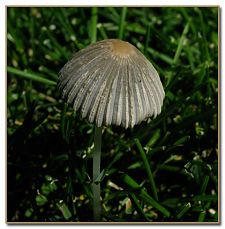 STALK FRAGILE, HOLLOW WITH NO RING
Stalk: 4-7 cm long, 1-3 mm thick; brittle; hollow
SINGLE TO NUMEROUS ON LAWNS, PARKS
TOO FLIMSY TO EAT
SPORE PRINT BLACK
Lookalikes:
Fairy bonnet (C. disseminatus) -- smaller and more numerous
White dunce cap (Conocybe lactea) -- cinnamon gills, whitish cap
YOU MIGHT ALSO LIKE TO KNOW....

On a summer morning, look down into the grass somewhere in the neighborhood. Thick well-watered grass is best. If you see little green people, you're probably too hot and need to sit down. If you see little parasols that look like mini-imports from Japan, don't worry. You're not hallucinating. You're actually seeing one of the city's most delicate and appealing shrooms.

Like a see-through umbrella, the pleated inky cap is so unusual you will want to take it home and show it to all your friends. Unfortunately, however, it will most likely disintegrate before you get back to the barn. So you'll have to appreciate it right there. Look it over thoroughly. Hold it up to the sun. Notice its ridges and wide gills. And, if you're feeling stupid, hold it over your head like an umbrella!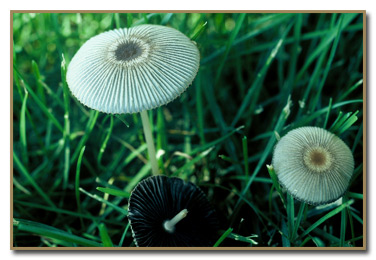 blog comments powered by