Destroying Angel, Death Angel
Order Agaricales, family Amanitaceae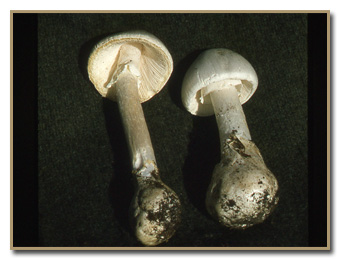 CAP PURE WHITE, SMOOTH, NO WARTS
3-14 cm broad, smooth, conic to convex then plane, not striate, no warts
GILLS FREE, WHITE
STALK WHITE WITH RING, VOLVA (CUP) ON ENLARGED BASE
10-25 cm long, 1-2.5 cm wide, white ring (may be tattered or missing) around stem when mature; club-shaped base, with a volva (cup) at the base. The volva is white, membranous, sacklike, separable from the stem and is OFTEN BURIED UNDERGROUND.
SPORE PRINT WHITE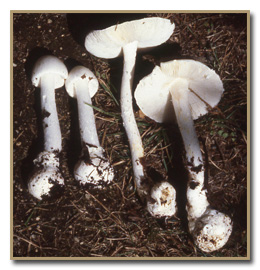 Spores 7-10 x 6.5-8.5 µ , broadly elliptical to nearly round, smooth, thinwalled, amyloid
ON GROUND WITH HARDWOODS
Common along the east coast, widely distributed in North America
DEADLY POISONOUS!!!
Lookalikes:
Leucoagaricus naucinus - no volva
Agaricus sp. - chocolate brown spore print, no volva
YOU ALSO MIGHT LIKE TO KNOW… There are more of these stately, stark white Amanitas, A. ocreata in the west, and A. volvata in the southeastern United States. A. verna, A. virosa and A. bisporigera may all be the same species – more studies need to be done. They all have cyclopeptides which kill liver cells. BE CAREFUL when collecting puffballs to eat – a young deadly Amanita, before it expands, looks like a smooth white puffball. Cut your puffballs in half to see if there is a mushroom forming inside; if so, it could be a deadly Amanita.
blog comments powered by