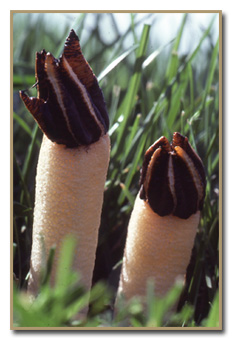 Also known as Anthurus borealis
Lizard's Claw
Order Phallales, Family Phallaceae
HEAD COMPOSED OF 5-6 PINKISH ARMS
Head: 1-2 cm wide; 2-3 cm tall; divided into 4-6 arms incurved and meeting -- but not fused together -- at top
MASS OF BROWNISH GREEN SLIME AT TOP
STALK GROWS OUT OF WHITISH BALL
Stalk: 8-10 cm tall, 1 cm thick; white, hollow; growing from whitish cup/egg anchored to the ground by cord; odor fetid
IN FLOWER BEDS UNDER TREES OR BUSHES; ON WOOD DEBRIS; IN LAWNS
EDIBILITY UNKNOWN
Lookalikes and smellalikes:
Stinkhorn (Phallus impudicus) -- larger, head one mass, no arms
Dog stinkhorn (Mutinus caninus) -- pinkish stalk, no arms
YOU MIGHT ALSO LIKE TO KNOW...

Is the phrase "elegant stinkhorn" is an oxymoron? This stinky mushroom proves that the answer is no. With its slimy pink and green arms raised above its phallic stalk, this mushroom combines the scariness and toughness of a "death claw" with the grace of a overweight male ballerina. And it smells foul to boot.

If that description doesn't inspire you to remove yourself from the couch and find this urban shroom, nothing will. And, in the unlikely event that you actually discover it, you won't be let down. It's completely unusual and surprising—much more exciting than anything you'll find at the newest downtown club. Go find one today and write us a comment below detailing what you think of it.
blog comments powered by