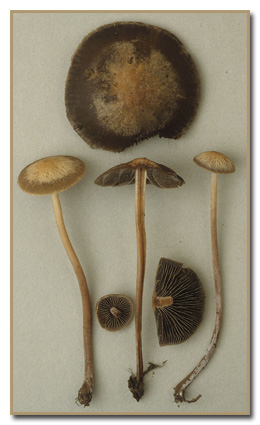 Also known as: Panaeolus cinctulus
Belted Panaeolus, banded mottlegill
Order Agaricales, Family Psathyrellaceae
CAP WITH DARK ZONE RINGING CAP EDGE
Cap: 2-3.5 cm wide; broadly convex to plane; brownish with dark ring forming about one cm before the cap edge
GILLS FIRST LIGHT THEN BLACKISH BROWN
Gills: attached; broad; crowded; first light then blackish brown to black with white edges; mottled
STALK REDDISH BROWN
Stalk 3.5-8 cm x 3-7mm, hollow, no veil, stalk base occasionally stains blue.
SPORE PRINT BLACKISH
Spores 8x12µ, smooth, elliptical, thick-walled.
ON MANURED LAWNS, GARDENS, SCATTERED TO NUMEROUS
HALLUCINOGENIC
Lookalikes:
Haymower's mushroom (P. foenisecii) -- in grass, smaller
YOU MIGHT ALSO LIKE TO KNOW....

Coming soon. Please share your story about this mushroom below.
blog comments powered by