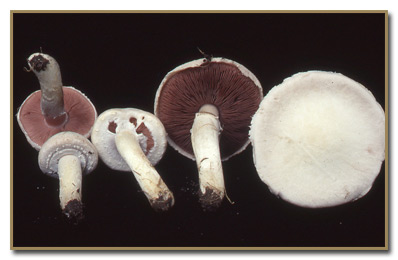 Meadow Mushroom, Pink Bottom
Order Agaricales, family Agaricaceae
CAP SILKY WHITE, SOMETIMES GRAYISH BROWN
Cap: 2.5-11 cm wide; convex becoming flat; edge of cap extends beyond gills, enrolled in young, sometimes hung with veil remnants; dry, smooth, or silky with fibers; flesh not staining when bruised
GILLS BRIGHT PINK THEN CHOCOLATE-BROWN
Gills: free at maturity; crowded, broad; pale pink before cap has opened, then bright pink, becoming dark chocolate brown
STALK WITH DELICATE RING
Stalk: 2-10 cm long, 1-2.5 cm thick; short usually thinning toward base; smooth above thin, band-like ring, often with fibrils below; white. Ring: thin ring on stalk, sometimes absent
SPORE PRINT CHOCOLATE BROWN
Spores 6.5-8 x 4-5.5 µm, elliptical, smooth
GROWS IN GRASS ON LAWNS
EDIBLE, CHOICE
Lookalikes:
Horse mushroom (A. arvensis) -- fragrant, bruises yellow, larger
Urban mushroom (A. bitorquis) -- thick double ring
The smooth Lepiota (Leucoagaricus naucinus) -- white spore print, thick ring
Vomiter (Chlorophyllum molybdites) -- grayish-green spore print, thick ring, scaly cap
YOU MIGHT ALSO LIKE TO KNOW....

This squat mushroom is often nestled in short grass, often in open lawns. If your favorite park is sprayed with herbicides or fungicides, look for refugees safely hiding from the spray guns under bushes or trees. Otherwise, stick to private lawns, particularly the ones that aren't so ruthlessly manicured.

The meadow mushroom closely resembles the common, supermarket button mushroom (A. brunescens). But, of course, the wild one tastes better -- richer and more nutty. Yet, it lacks the gastronomical complexity of the horse mushroom (A. arvensis) or the urban mushroom (A. bitorquis). Like most mushrooms, it's much better thoroughly cooked.
The perfect mate to a cold meat or pate plate for late summer is this fennel and mushroom salad. It's light and, since fennel is believed to be a digestive aid, it may help your body process the fats in the meat more efficiently. The meadow mushroom works well in this recipe. It's a firm mushroom and, even though the flavor is mild, it's not lost behind the other ingredients.
Fennel and Meadow Mushroom Salad

2 c sliced fennel root
1 c sliced, cooked meadow mushroom (Agaricus campestris)
½ c coarsely chopped fresh parsley
2 c quartered roma tomatoes
1/3 c thinly sliced red onion

Dressing

2 T olive oil
1 T dark sesame oil
4 T white wine vinegar
2 T balsamic vinegar
pinch of ground rosemary
salt and pepper to taste

Combine and lightly toss the vegetables. Whisk together the oils, vinegars, and spices. Pour over the vegetables and marinate at room temperature for one hour before serving. Serves 6 as a side dish.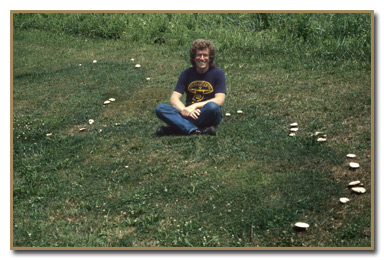 blog comments powered by