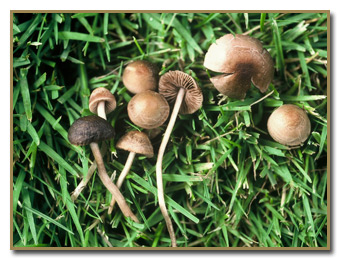 (Also known as Psathyrella foenisecii)
Haymower's mushroom, lawnmower's mushroom
Order Agaricales, Family Psathyrellaceae
CAP BROWNISH, FADING IN ZONES
Cap: 1-4 cm wide; conical to convex, becoming flat with knob; smooth; dark brown fading in zones to pale tan
GILLS DARK BROWN, OFTEN MOTTLED WITH WHITE EDGE
Gills: attached; broad; brown; faces becoming mottled with gill edges whitish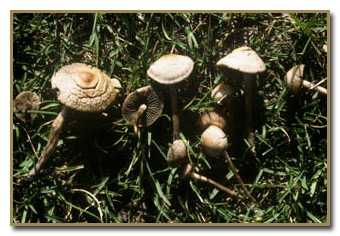 STALK WHITISH WITH NO RING
Stalk: 3-7 cm long, 1.5-4 mm thick; smooth; white to dingy brown
SPORE PRINT DARK PURPLE BROWN
Spores 12-15 x 6.5-9 µm, elliptical with small warts, apical pore
IN LAWNS
POSSIBLY HALLUCINOGENIC
Lookalikes:
Psathyrella candolleana -- usually larger with veil remnants on edge of cap or stalk
Agrocybe pediades -- yellowish cap, lighter gills
YOU MIGHT ALSO LIKE TO KNOW...

This Panaeolus is common in the grass and looks fairly boring, but—in this case—looks deceive....

In some parts of the U.S., P. foenisecii contains psilocybin, the same pyschoactive agent found in magic mushrooms. There is some evidence that P. foenisecii may be hallucinogenic.

A number of cases have been reported involving children eating P. foenisecii and apparently having hallucinations. Mushroom poisoning expert Marilyn Shaw reports one case in which a man was mowing his lawn in Denver and found his child with "mushrooms around her mouth." Her mother said the little girl was later "banging her head" and holding her head and was frightened of both her parents. The kid was not acting as if she had a stomach ache. At the hospital in the middle of the night, Marilyn identified the mushrooms as P. foenisecii, and the doctor administered a tranquilizer. In another case, a child at a summer camp ate about 30 mushrooms, and the counselor believed she was later hallucinating.

As far as adults go, we've had friends who've eaten between 5 and 25 specimens of this mushroom, they've either felt nothing or, as one friend told us, the psychoactive effect "made his day."

If your pet starts acting like it's tripping, you might think about P. foenisecii. One dog owner told Marilyn Shaw that his dog seemed to be hallucinating, as it was frightened and cowering under the furniture for three days. And, sure enough, P. foenisecii grew profusely in the yard. Marilyn told the man that, for human beings, the treatment would be reassurance and a tranquilizer, if necessary. This worked for, and Marilyn became a hero of the Capitol Hill Animal Clinic.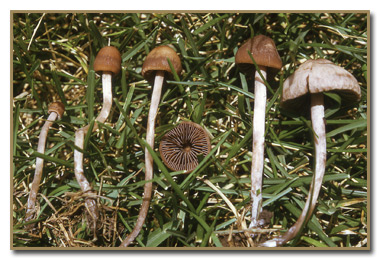 blog comments powered by