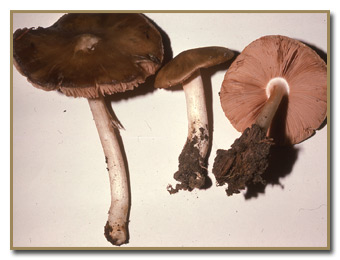 Deer Mushroom
Order Agaricales, Family Pluteaceae
CAP BROWNISH
Cap: 3-12 cm wide; convex becoming broadly convex to flat; smooth or with grooves running down cap, slightly slimy when moist; light to dark brown
GILLS FREE, WHITE THEN SALMON-PINK
Gills; free; close, broad; white, becoming pinkish then salmon-pink
STALK WITH NO RING
Stalk: 5-13 cm long, .5-2 cm thick; solid; smooth or with brownish or blackish longitudinal fibers; no veil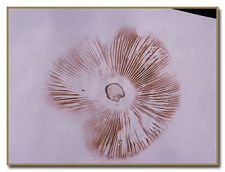 SPORE PRINT SALMON TO BROWNISH PINK
Spores 6-8.5 x 4.5-6 µm, elliptical, smooth
ON WOOD – STUMPS AND CHIPS; ON GROUND ON BURIED WOOD
EDIBLE
Lookalikes:
Entoloma sp. -- attached gills, not on wood
Volvariella - same spore print & free gills, but has volva (cup) at stem base
YOU MIGHT ALSO LIKE TO KNOW....

Ask your average mycophobic neighbor, "What color are gills?" The probable answer: pink. As urban mycophiles who spend more time mushroom hunting than fishing, we know that gills are less often pink and mostly gray, green, brown, black, or some combination of those colors.

The deer mushroom is an interesting find for its pink gills and spores. (Note that younger specimens have whitish gills. To make a spore print, place a mature cap gill-side down on white paper overnight.) It's also a graceful wood-inhabiting mushroom that some people like to eat. We've found it in the city on both stumps and wood chips.
blog comments powered by