Western Giant Puffball
Order Agaricales, family Lycoperdaceae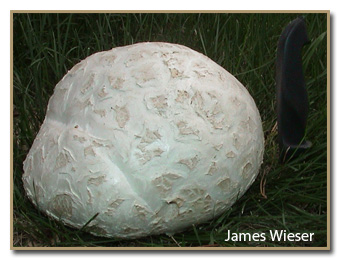 FRUITING BODY: HUGE WHITE FLATTENED SPHERE WITH LARGE FLAT SCALES
20-60 cm wide, 7.5-30 cm high, dull white with large flattened polygonal buff warts. Scales crack away and fruiting body eventually disintegrates to release spores.
Base: sits on soil, small rootlike attachmentInterior: white and solid when young, becoming yellow-brown then dark olive brown and powdery.
SPORES: OLIVE-BROWN
Spores 4-6 x 3.5-5 µm, spherical or nearly spherical, smooth or finely pitted.
HABITAT: ON GROUND
Single to several to fairy rings, in Rocky Mountains and west. Usually in grassy open areas or sagebrush, summer and fall
EDIBILITY: edible when young and white inside
Lookalikes:
Calvatia subsculpta – large pyramidal warts, smaller fruiting body
Calvatia gigantea – eastern North America; smooth surface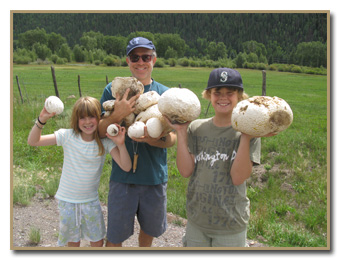 YOU MIGHT ALSO LIKE TO KNOW...
.Mushroom expert Gary Lincoff likes to call giant puffballs "dinosaur eggs." And that's what you might think they are. Or perhaps soccer balls or baseballs, accidentally left on a field.
But if you tried to kick it, it would 1) shatter, if young, 2) splat, if middle aged or 3) create a cloud of dust, if old and dry. At the young stage, when they're pure white and firm inside, you can eat the Giant Puffball. But if the interior has started to turn yellow and is mushy, it's reached the "splat" stage and shouldn't be eaten. When it's old and dry it will stream out clouds of spores. An average-sized puffball has about 7,000,000,000,000 (7 trillion) spores. So we calculate that the Giant Puffball, dinosaur variety, has about 21 to 35 trillion spores. So that's one hell of a puff you get from this puffball!
At the edible state, one way to fix it is to cut it into slabs, coat in beaten egg, and dredge in bread crumbs such as Panko. Saute in olive oil and/or butter. You can also try stacking the slabs like lasagna and adding your favorite tomato sauce.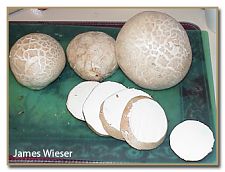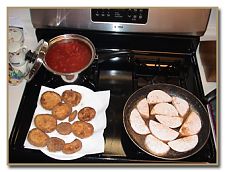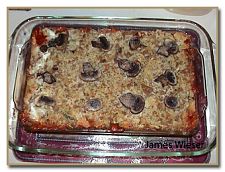 blog comments powered by