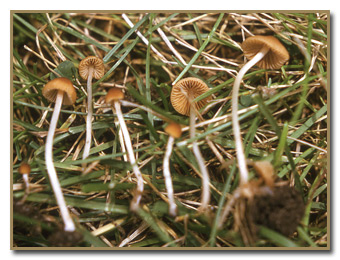 Brown Cone Head
Order Agaricales, family Bolbitiaceae
CAP BROWNISH, CONICAL
Cap: 1-3 cm wide; narrowly conical to bell-shaped; cinnamon brown, fading with age; fine striations on cap edge
GILLS CINNAMON BROWN
Gills: free or nearly free; narrow; cinnamon brown
STALK BROWNISH, FRAGILE, NO RING
Stalk: 4-9 cm long; 1-2 mm thick; brownish
SPORE PRINT CINNAMON BROWN
Spores 10-14 x 5-7 µm, smooth, thick walled, apical pore
ON LAWNS
NOT EDIBLE
Lookalikes:
White dunce cap (C. lactea) -- lighter cap and stem
Yellow Bolbitius (Bolbitius vitellinus) -- more viscid
YOU MIGHT ALSO LIKE TO KNOW...

We're all for xeriscape (low watering) gardens and replacement of the water-guzzling Kentucky Blue Grass, which dominates our cities and parks. But it should be known that while such a move would promote growth of some mushrooms, it would hurt some—like the brown cone head. It emerges after dawm watering of city lawns.

You don't have to be dense or a dunce to get a little excited about this brown dunce cap, which wilts away by mid-day. Self-important early-morning-go-get-'em types look ridiculous scurrying past dunce caps in the wet grass. It's less common than its lookalike, the white dunce cap.
blog comments powered by