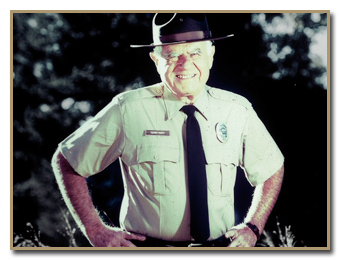 It's illegal to grow, possess, or eat Psilocybe cubensis.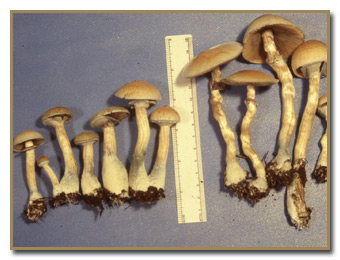 Magic Mushroom
Order Agaricales, Family Strophariaceae
CAP BRUISES BLUE
Cap: 2-9 cm wide; pagoda-shaped when young, becoming convex to flat with knob; whitish or yellowish, sometimes brownish; smooth; slimy when moist; bruises blue
GILLS BECOMING PURPLE-BLACK
Gills: attached, later appearing free; crowded; whitish at first, quickly becoming deep purple-gray then blackish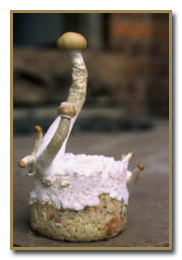 STALK WHITISH OFTEN WITH RING
Stalk: 4-15 cm long, 4-14 mm thick; whitish, bruising blue
Ring: white ring quickly covered by blackish spores, sometimes washed away
SPORE PRINT DARK PURPLE BROWN
ON DUNG, GROWN ILLEGALLY INDOORS
HALLUCINOGENIC
Lookalikes:
P. coprophila -- not staining blue
Agrocybe praecox -- lighter spore print, not blue-staining
YOU MIGHT ALSO LIKE TO KNOW....

Some urban dwellers eat magic mushrooms or grow them indoors. Since possessing this shroom is against the law, this type of mushroom consumption or farming is illegal and cultivators and buyers and sellers have been arrested in the Denver area.

Magic mushrooms do not grow wild in most U.S. cities. If you're disappointed, think about this: There are lots of good reasons to hunt city mushrooms. Many are beautiful, and some are delicious. You get outside, meet your neighbors, discover new things and enjoy natural highs of various kinds. The key to enjoying city mushrooms is not to obsess on any one reason to look for them, but to realize that there are innumerable aspects of the City Mushroom Hunt that are worthwhile.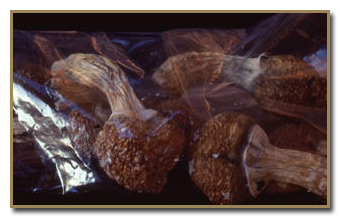 blog comments powered by