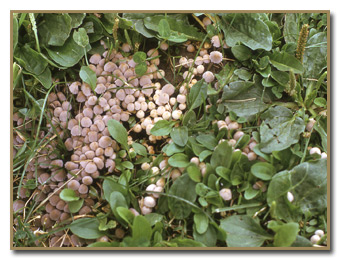 (Also known as Coprinus disseminatus)
Fairy Bonnet
Order Agaricales, family Psathyrellaceae
CAP BELL SHAPED, DEEPLY PLEATED
Cap: .5-2 cm wide; bell-shaped to convex; buff with honey-brown center; deeply pleated nearly to center
GILLS BECOMING BLACK BUT NOT INKY
Gills: attached; wide-spaced; white to black, not inky
STALK WHITE, FRAGILE, WITH NO RING
Stalk: 1.5-4 cm long, .5 to 2 mm thick; hollow, smooth, fragile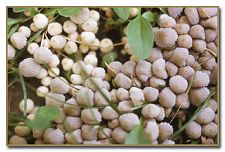 SPORE PRINT BLACK
Spores 6.5-19 x 4-6 µm, elliptical, smooth, apical pore
GROWING ON CLUSTERS IN DECAYING WOOD; IN GRASSY AREAS
Usually near base of stumps, often in lawns.
EDIBILITY UNKNOWN, TOO FLIMSY TO MERIT EATING
Lookalikes:
Parasola plicatilis -- larger, flatter cap
Panaeolus species -- firmer caps, no pleats
Coprinus micaceous -- browner, larger
YOU MIGHT ALSO LIKE TO KNOW...

Urban beauty-seekers spend far too much time viewing flower gardens. No one wants to trash the attraction of flower-bed pansies or recommend kicking flowers the way many people kick mushrooms, but isn't it worthwhile to appreciate the diversity of natural beauties in the city? Begin to broaden your vision by moving away from the flowers and finding the fairy bonnet mushroom in the cool grass.

It's not worth eating, but—much like its cousin the Japanese parasol—it's worth finding and appreciating.
blog comments powered by