(Also known as Coriolus versicolor, Polyporus versicolor)
Turkey Tail
Order Polyporales, Family Polyporaceae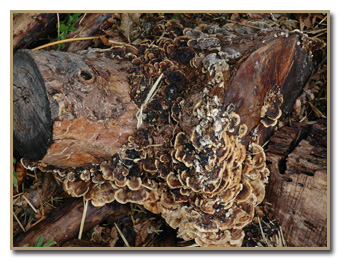 FRUITING BODY OVERLAPPING LEATHERY STALKLESS CAPS WITH MULTICOLORED ZONES
Caps 2-10 cm wide, growing in rosettes; circular, semicircular, fan or kidney-shaped, often fused; flat or wavy; silky, hairy or velvety with smooth zones; colors extremely variable: mixture of white, gray, brown, reddish; flesh 1.2 mm thick, tough and leathery.
UNDERSIDE WITH SMALL WHITE TO YELLOW PORES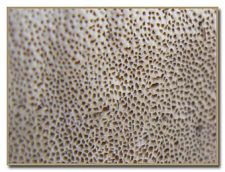 Tubes up to 3 mm long, 3-5 per mm, white to yellowish
SPORE PRINT WHITE
Spores 5-6 x 1.5-2 , cylindric, smooth, colorless
ON WOOD OF DEAD HARDWOODS, especially oak. Sometimes on live tree wounds or rarely on conifers.
NOT EDIBLE – TOO TOUGH TO TRY
YOU MIGHT ALSO LIKE TO KNOW…

This mushroom does look vaguely like a turkey tail. It is the most common polypore, and since it doesn't decay rapidly, is used to make ornaments – necklaces, earrings, clips. There is a bewildering range of colors, which is its distinctive characteristic. As for edibility, David Arora suggests to "boil for 62 hours, squeeze thoroughly, and serve forth."
blog comments powered by