Dryad's Saddle

Order Polyporales, family Polyporaceae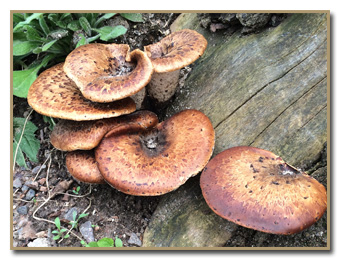 CAP COVERED WITH LARGE FLATTENED SCALES
Cap: 6-40 cm broad, usually fan- to funnel-shaped, growing singly or more often in clusters, pale tan with brownish fibrillose scales which are often radially or concentrically arranged.
UNDERSURFACE WITH PORES
Pores: large, angular, often irregularly shaped, whitish to cream, not discoloring, decurrent down stalk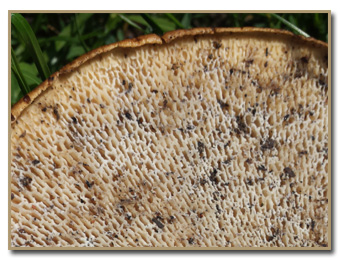 STALK SHORT, OFF-CENTER OR ON SIDE OF CAP
Stalk: 3-10 long x 2-6 thick, lateral or eccentric, tough, blackens especially at base as fruiting body matures

SINGLE OR MORE OFTEN CLUSTERS ON STUMPS OR LIVE TREES, IN SPRING

EDIBLE WHEN YOUNG AND SOFT

SPORE PRINT WHITE
Lookalikes:
Polyporus arcularis – very small and tough
YOU MIGHT ALSO LIKE TO KNOW....
This surprisingly common urban mushroom make look a bit like shoe leather and taste like leather when it's old, but urban mushrooms hunters don't let that stop you from eating it. Just pick Dyad's Saddle when it's young, just after it emerges from a stump, when you can barely see the pores on the underside of the cap. Your knife must be able to easily slice through the fruiting body like butter, without any sawing. When it reaches the shoe-leather stage, try making a delicious broth by cooking them forever in a crock pot. Seriously, you won't regret giving the slow-cook method a try with this mushroom.

If you don't want to bother with the crock pot, the older mushrooms are still worth appreciating, not for their toughness, beautiful mottled appearance and earthy colors.

Mushrooms with pores under their caps, instead of gills, are relatively rare in urban areas. So finding Dyrad's Saddle offers a good opportunity for beginners to see what pores look like.

Like any mushroom that grows on stumps in the urban setting, you'll need to give Dryad's Saddle a whiff to make sure that dogs (well-known enemies of the urban mushroomer) did not relieve themselves on it prior to your picking it. Unfortunately, Polyporus squamosus usually grows exactly at dog level, making it a prime target. So be on your guard for this, and protect prime stumps by creating dog-free zones.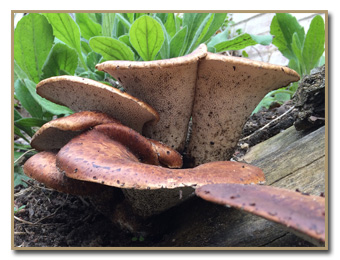 blog comments powered by