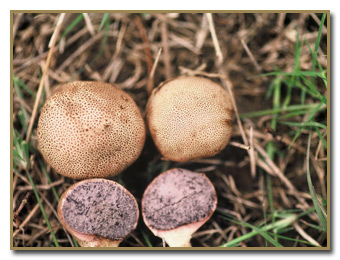 Common Earthball
Order Sclerodermatales, Family Sclerodermataceae
FRUITING BODY SPHERICAL, SURFACE CRACKED WITH FLAT SCALES
2-12 cm wide, usually spherical, at times depressed; stalk absent or short; surface cracked with raised flattened scales with a central wart; yellow-brown, breaks irregularly at maturity; surface texture like a football
SPORE MASS PURPLE-BLACK
Spore mass inside mushroom white when very young easily differentiated from the thick white "rind;" soon mass turns black or purple-black, mottled with whitish lines; a blackish-brown powdery mass when mature; spores "puff" from top
ON SOIL OR ROTTEN WOOD; IN GRASS
POISONOUS
Lookalikes:
Edible puffballs -- lack thick skin; spore mass white when young, becoming yellowish green to brown at maturity
YOU MIGHT ALSO LIKE TO KNOW....

You can distinguish this roundish puffball by its purple-black interior surrounded by a white, thick skin. It's rarely found young enough to be white inside.

Mushroom hunters are peaceful people, not prone to the violent tendencies that seem to afflict much of humankind. But sometimes we throw mushrooms at each other. We know that this helps scatter their spores for future generations of mushrooms. We've discovered most mushrooms either shatter or plop. But not the common earthball. It often bounces.
blog comments powered by