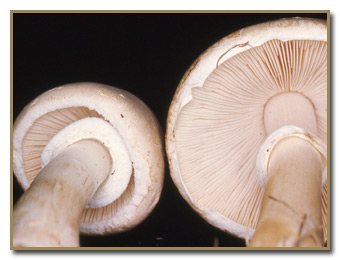 (Also known as Lepiota naucina)
Smooth Lepiota
Order Agaricales, family Agaricaceae
CAP WHITE, SMOOTH
Cap: 4-10 cm wide; nearly round when young, then broadly convex to flat; dry, usually smooth, rarely scaly in age; usually dull white, sometimes grayish
GILLS WHITE, FREE
Gills: free; close, broad; white when young, often becoming grayish pink in age
STALK WITH THICK MOVABLE RING, NO CUP AT STALK BASE
Stalk: 5-15 cm long, .5-1.5 cm thick; dry; white, sometimes becoming brownish in age
Ring: white, collar-like, double-edged, movable; on upper stalk
SPORE PRINT WHITE
Spores 7.5-11 x 5-6.5 µm, ovoid, smooth, thick-walled, small apical pore, red-brown in Melzer's solution.
ON GROUND IN GRASS
EDIBILITY: CAUTION
EATEN BY MANY PEOPLE BUT NOT RECOMMENDED; TOXIC TO SOME
POISONOUS VARIETY MAY EXIST
Lookalikes:
Amanita virosa -- vulva (cup at base of stem), skirt-like ring
Agaricus campestris -- gills first pink then brown
Chlorophyllum molybdites -- green spores, buttons stain, scales on cap
YOU MIGHT ALSO LIKE TO KNOW....

The most common killer mushrooms—white Amanitas called "death caps" (Amanita phalloides)—are not common is most urban areas. Nonetheless, they do grow in some cities. This mushroom could be confused with them. So be careful.

Incidentally, imagine how the smooth lepiota feels, looking like a death cap. How would you feel if you looked like a deadly white Amanita? No one would pick or taste you. Everyone would kick you.
blog comments powered by