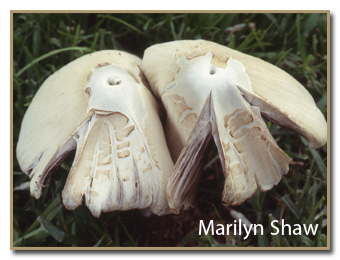 Common Psathyrella
Order Agaricales, Family Psathyrellaceae

CAP EDGE HUNG WITH VEIL REMNANTS
Cap: 2-8 cm wide; conical becoming convex or flat with knob; brownish fading to yellow or white, often darker at center; cap edge with hung veil remnants when young; flesh thin
GILLS WHITISH THEN DARK BROWN
Gills: attached; crowded; white when young, becoming grayish purple then dark brown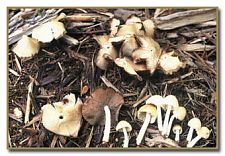 STALK WHITE, FRAGILE, HOLLOW
Stalk: 4-10 cm long, 2-8 mm thick; white; hollow, sometimes hollow tube visible from top of cap knob; fragile
Ring: usually disappears, but sometime present
SPORE PRINT DARK BROWN
Spores 6.5-10 x 4-5 µm, smooth, elliptical, apical pore
ON LAWNS, IN GARDENS, ON WOOD, MULCH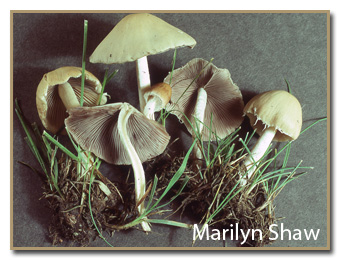 EDIBLE
Lookalikes:
Coprinus sp. -- black spore print, inky
YOU MIGHT ALSO LIKE TO KNOW....

This is a very common mushroom in well-watered grassy areas, shady or sunny. It grows quickly in wet conditions and then dries up. In clusters with its cap wavy and split around the edges, it can look like a bouquet of flowers. But it can also grow alone with a cap free of splits or waves.

Its flesh is so thin that it isn't much good for food, unless you find large fruitings. This sometimes happens when the mushroom grows from wood chips. One collection tasted like spinach.
blog comments powered by