By Jason Salzman
As we pointed out earlier, urban mushroom hunting has risks. The mycophobic population can be dangerous, as well as their dogs, their lawn mowers, their sprays, and even their kids. Their obsession with the Perfect Lawn, free of mushrooms, may drive you crazy.
Even if you don't reach the point of urban myco-desperation, you may come around to thinking that urban grocery stores are much better places to foray for mushrooms than your neighbors' lawns. Dogs are forbidden. Steps are easier to climb than grassy hills. And a screaming child is usually removed.
Also, you're guaranteed to find something. Depending on the season, there are at least a dozen species of mushroom—and probably more—available in markets in most urban areas. That's not counting Peziza domiciliana, which may well be growing in the basements of some of the more down‑to‑earth shops.
More to it than Mushrooms
Most important, if down deep you really hate mushrooms, you will discover that there is much more to a mushroom foray in markets than mushrooms.
You can start with a Dim Sum breakfast in your local Asian neighborhood. Carry out one of those excellent roast ducks for dinner, and your market foray is already a success.
With your duck in hand, walk to any nearby Asian market (Chinese, Thai, Vietnamese, etc.). In Denver, we strolled to the "Pacific Ocean Marketplace." Inside, stacked alongside the cans of banana blossoms in brine, we found about 16 brands of canned mushrooms—and it hadn't rained a drop in months.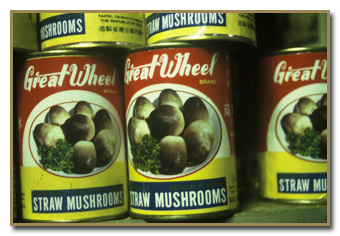 Pick a can of "Golden Mushrooms." Identification is easy, no clumsy field guide necessary, because the can is neatly labeled, Flammulina velutipes, from Taiwan. It's commonly referred to by its Japanese name, Enokitake (ee‑no‑kee‑tah‑kee) or simply Enoki.
Trouble is, out of a can, most mushrooms are slimy and bland, a bad combination. On top of that, many canned varieties have a metallic flavor that can ruin a dish.
So, overall, skip the cans and go for the fresh or dried shrooms. They're much better, as is the case with fresh Enoki.
Many Asian and upscale markets sell fresh Enoki. They often flourish in the fresh produce section, possibly near the snow peas. Cultivated in California and packaged in plastic, these mushrooms, which are similar to a white four‑inch nail, taste like they look—bland. They definitely add a quirky, exotic look and a crunch to a salad or soup. (Sushi joints decorate soups and rolls with them.) Cooked lightly in butter, they become slightly sweet—worth a try.
You might stock up on this fungus if cancer runs in your family because it fights tumors in animals, according to Japanese studies, which state that high consumption of F. velutipes among growers and their families in Nagano City, the center of cultivation in Japan, is responsible for the low incidence of cancer there.
If you hunt mushrooms in yards, particularly in the spring or fall, you might find the wild variety of Flammulina velutipes, also called the "velvet foot," on stumps. The wild Enoki looks completely different, with a yellow‑brown cap and a brown stem that is velvety at the base, and it tastes much better. In fact, it's one of the best-tasting urban shrooms you can find—with a distinctive sweet flavor.
Don't Wrap your Cans in Wax Paper
Even if you don't buy them, it's still fun to look at all the cans of mushrooms at the Asian markets, and self-respecting city foragers should sample a few.
One variety that's worth trying, more for its looks than taste, is called "Straw Mushrooms," Volvariella volvaceae, from Malaysia, Taiwan, and Indonesia. Select a can that is marked "whole" not "broken." These are much more attractive mushrooms. A wild species is called Volvariella bombycina. (Don't wrap your cans in wax paper and, for God's sake, don't dig into the metal shelf with your collecting knife. There is no hidden volva or mycelium there.)
The half‑inch caps of Straw Mushrooms (also called "Paddy Straw Mushrooms") are brown on top, tapering to white at the base. They have a "Walt‑Disney‑mushroom look," notes Joanne Salzman, a market forager. Unfortunately, although attractive, they have virtually no taste out of a can. You might also find dried straw mushrooms, but they don't reconstitute well and taste rather musty.
Trong Lam, Foray Leader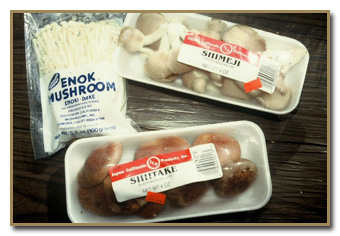 As you continue your foray at the Asian market, you might bump into the owner—as we did at the Pacific Ocean Marketplace in Denver. His name is Trong Lam, and he makes an excellent foray leader.
Lam, a Vietnamese "boat person" who came to the U.S. 12 years ago, showed us small bottles of "Chinese Caterpillar Fungus and Royal Jelly," available in packages with moths and caterpillars on the cover. Twenty‑five percent of the concoction is Cordyceps sp., which grows out of insect larvae that are attacked by the fungus.
The package advises imbibing the contents of "one bottle daily in the morning or before sleep. It can be taken without distinction of sex and age."
Hunting in the Pharmacy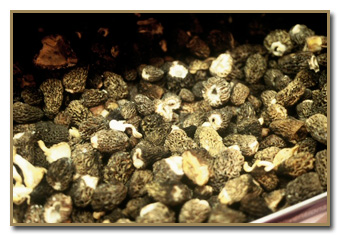 In larger cities, you can buy dried Caterpillar Fungus in bulk. On a recent visit to San Francisco, we asked for the Caterpillar Fungus at a Chinese pharmacy, and the owner said he had it for 426 an ounce. I said I'd take an ounce having read that this strange shroom is considered by the Chinese to be a serious aphrodisiac. The Chinese pharmacist returned with the Caterpillar Fungi in a baggie, and asked for four hundred and twenty six dollars, not $4.26.
He said the high price was due to the fact that the mushroom is collected wild in remote Chinese forests, and it's in high demand. I apologized and said I'd take four caterpillars, which still cost $20, but worth it if it works.
Unfortunately, my previous experiment eating Cordyceps, in a homemade batch of ice cream made by co-founder of Ben and Jerry's, Jerry Greenfield, had no effect.
But I thought I'd try again, and prepared Codyceps tea, boiling the whole infested caterpillars in water for about five minutes, as the Chinese pharmacist recommended. I served the tea to four couples, including me and my wife, but none of us felt anything, unfortunately. One couple said they have sex all the time anyway, so it didn't matter.
If boiled caterpillars aren't your thing, one Chinese pharmacist pulled out two bottles of Codyceps tablets, one cost $80, the other 150. The expensive brand is made with the wild fungus, while the cheaper variety is made with Cordyceps militaris, a cultivated version. It's also available dried for about $5 an ounce, a real bargain even if it doesn't work.
There's lots of fun waiting for the urban mushroom hunter at most any Asian pharmacy. At one pharmacy we visited in Denver, we were greeted by Zhong Jun Fu, dressed in a white doctor's jacket. Fu was formerly a surgeon in a large hospital in Szechwan, China, but he does not yet have his U.S. medical license, he said.
With his four‑year‑old son translating, he points out the mushroom medicines in the shop. He's got "Ling Zhi" (Ganoderma lucidum) capsules and extract. The box states, "(Ling Zhi) is a mental and physical restorative and helps to increase vigor and circulation and the maintenance of body resistance. It will therefore help you young, healthy, vigor, and happy and assure one's longevity." (What more could you want from an extract?)
Ling Zhi, also known as Reishi, is also called the "Mushroom of Immortality." It's a woody polypore that's widely cultivated
Next to stacks of cartons of ginseng tea at the Chinese pharmacy, we saw boxes of "White Fungus" (Tremella fuciformis). Fu, who used to hunt mushrooms in China, says that in a soup or tea this mushroom will help relieve itching skin, enhance memory, and calm the nerves. White Fungus is also served for desert with sugar added.
Many Chinese believe that the best drugs—like medicinal mushrooms—have many functions and strengthen internal defenses against diseases. This is in contrast to western drugs, which are developed to be silver bullets to combat specific maladies. And as you'll see on the shelves of Asian pharmacies, many mushrooms, including Shiitake, Maitake, Hericium, Agrocybe, and others, fit the bill as the kinds of foods that should be eaten regularly as a food/medicine.
You want to get serious about Shiitake?
If you get serious about eating Shiittake (shee‑tah‑kee) or other dried Asian mushrooms, you can get the best price by buying in bulk Asian markets, not the pharmacies. You'll find that the Japanese brands are more expensive than Chinese brands. The two don't taste different, although the Japanese version looks better, with fewer broken mushrooms and better packaging. There is a market for high-priced, Japanese‑grown Shiitakes that are large, unbroken, and heavily cracked on the cap.
Dried Shiitake reconstitutes quite well, though they remain tolerably tough after cooking. Manny Salzman, one of the authors of this website, marinates dried Shiitake and grills them on a griddle for an appetizer. They're strong enough to overpower a soup or stir‑fry with their nutty, sometimes musty flavor. Try sautéing reconstituted Shiitake and adding them to a grain or pasta side dish. Stock up on dried Shiitake from Asian markets, because you'll find them exponentially more expensive at health food stores or specialty shops. (Also at some Asian markets, you can buy Japanese shitake tea, called "Shiitake Cha." In cans, they are called "Po‑Ku Mushrooms.")
Fresh shitakes are much milder, meaty, and delicious cooked any way. You can find them at Asian and traditional supermarkets alike.
Dried, fresh, or canned, some people say Shiitakes are good for you. Japanese studies have confirmed that Shiitakes can lower serum cholesterol and stimulate the immune system. And like most mushrooms, they are high in protein with little fat.
Pay for What You Pick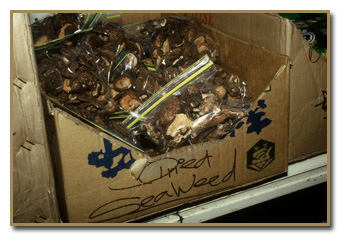 When you've exhausted the flushes of fungus at one Asian market, move to another. A thorough search of Asian markets may turn up 25 or more brands of canned mushrooms with brand names like Dragon, Narcissus, Pagoda, Jackpot, and Cock, as well as teas, tablets, extracts, and dried and fresh varieties.
But don't be so eager to foray at a different site that you forget to pay up. Conversely, don't get so mesmerized from people-watching in a busy store, particularly on a Saturday morning, that you forget that your goal is to foray for mushrooms.
Most Asian markets have a bountiful supply of "Black Fungus" or "Wood Ear" (Auricularia polytricha) from Taiwan and China. Add an appealing crunch—but no taste—to your soups and stir‑fries by buying a bag.
Wood ears are cultivated widely in China, where it is called Mu Ehr, Yung Ngo, or Muck Ngo. In Europe, it is named "Judas' Ear" because of a belief that it marks the tree from which Judas was hung. As a daily part of Chinese cuisine, it's believed to be responsible for reducing the incidence of diseases associated with blood clots.
You may notice that in some markets, the term "Black Fungus" is used to describe both Shiitake and Auricularia. You have to know that Shiitake has gills and a brown cap, while Auricularia is a black cup fungus with no gills. A related species, A. auricula, is common in the fall on dead wood in forests.)
Japanese markets, in particular, will often carry fresh or frozen "Matsutake" (probably Tricholoma magnivelare, which is closely related to T. matsutake). In Japan, Matsutake costs $50 or more per mushroom. Try grilling this strong-cinnamon-smelling mushroom with a brush of tamari sauce. Or cut it up into dime-sized pieces, sauté with olive oil until brown, and mix with white rice. Don't get suckered into buying dried Matsutake at markets. This fungus loses most of its flavor dried.
A Placebo-induced Italian Fantasy
Just as you'd try different neighborhoods if you were mushroom hunting in the city, you should try different ethnic markets if you're foraying in stores. Don't miss the Italian markets.
As you enter, check out the walls. You'll feel right at home when you see a giant Fungi poster on the wall. Many Italian people love mushrooms with a passion equaled only by the Russians.
At one Italian market we visited, we asked the owner--Tony Mancinelli‑‑about mushrooms, and he went upstairs to retrieve a photo of an 8 lb. Porcini that he collected in the mountains some years ago. From the "safe," which is actually the walk‑in fridge, he produced a 25‑gram can of white Italian truffles (Tuber magnatum). Buy this if A) you think eating a truffle might release some deep unconscious angst; B) if you can't afford to go to Italy but want a placebo‑induced Italian fantasy; or C) if you eat all mushrooms, period.
Truffles, which grow underground and are sniffed out by pigs or dogs, are prized like no other mushroom in Italy. Because they take so long to grow and are only beginning to be cultivated, truffles have become one of the most expensive condiments on the planet. Slivers of the pricy fungus are sometimes shaved or grated over pasta. (Truffle oils and butter, if not the fungus itself, are available at upscale markets.)
Above the "hot Italian sausage" in the meat case, we found the best price in town for dried Boletus edulis ("Porcini" in Italian, "Cep" in French, "Seinpilz" in German, and "Borovici" in Russian). Also find them at most grocery stores.
Although all Porcinis are excellent, the Italian Porcinis seem to have a superior texture and flavor to the French variety. They reconstitute so well that some people prefer the dried form over the fresh one, which is milder after cooking. (Italian and upscale markets sometimes have fresh Porcini for sale in the late summer.) Mixed with grains or pasta, Porcini makes a great main course.
Most Italian markets also have dried "Morels" (Morchella esculenta). Dried Morels are also available in small packages at most large grocery stores. One such package says that Morels have "an earthly flavor that truly captures the essence of the woods." Though most Morel-crazed mushroom hunters would agree with this, explorers Lewis and Clark only ate them in a pinch and allegedly described their flavor as "insipid."
Gourmet Markets
At the gourmet markets, you'd expect to understand the dominant language better than at the Asian stores, where Vietnamese, Thai, and Chinese buzz around you. But upon entering, you find yourself facing a new language barrier in the form of weird terms like "pesticide-free Minneola Tangelos."
In any case, the produce section at a place like Whole Foods spawns fresh mushrooms throughout the year. This grocer and others like it create special habitats for their mushrooms, stand-alone display cases with baskets of mushrooms displayed on shelves—as well as small plastic containers filled with mushrooms and shrink-wrapped with plastic.
In addition to the mushrooms described above (e.g., Oysters, Shiitake, Agaricus), you may find, depending on availability, fresh Chanterelles (Cantharellus cibarius), Lobster (Hypomyces lactifluorum), Porcini (Boletus edulis), Herecium, Maitake, "Hedgehog" (Hydnum repandum or "pied de mouton" in French), and others.
Button Mushrooms, Crimini, and the over-rated Portobello are actually all the same variety of mushroom (Agaricus bisporus), grown under different conditions.
(With exceptions, such as Shiitake, Enoki, Oyster, Black Fungus, Maitake, Hericium, and Agaricus species, the common fresh mushrooms available in the markets cannot yet be cultivated on a commercial scale. Instead, they are harvested from forests, sometimes by migrant workers. Some scientists believe that unregulated commercial harvesting of mushrooms from forests damages the fungi and the forest. In response to this, regulations have been enforced in some parts of the country—but not in others. Even with the regulations, some scientists argue that commercial picking damages the environment, but the final verdict is not yet in. In fact, a recent study showed that intensive collecting of chanterelles did not affect subsequent fruiting.)
Even if you buy nothing, you can't beat a foray at a place like Whole Foods. How often does a stranger offer you a little cup of fresh lemonade or a cracker with goat cheese when you're mushroom hunting in the park?
Even though there is no cordyceps in the "Body Boutique," Whole Foods isn't a bad place to end your hard day of market foraying. Survey the fungus in the produce section and head directly to the bakery. There's a sumptuous chocolate truffle waiting for you.
And while chocolate truffles are expensive, they're a much better deal than Tuber magnatum and no pig is required to find them.
MUSHROOMS FOUND IN GOURMET GROCERY OR HEALTH-FOOD STORES
Agaricus brunnescens (Portobello, Crimini, Button) canned, fresh, dried
Agrocybe aegerita dried
Boletus edulis (Porcini, Cep, Steinpilz, Borovici) dried, fresh
Cantharellus cibarius (Chanterelle) fresh, dried
Flammulina velutipes (Winter Mushroom, Enoki‑Take, Velvet Foot) fresh
Pleurotus ostreatus (Oyster Mushroom, Abalone Mushroom) canned, fresh, dried
Ganoderma lucidum (Reishi, Ling Zhi) dried, tea, extract
Hericium sp. (Monkey Head) fresh
Hydnum repandum (Hedgehog, Pied de Mouton) fresh
Hypomyces lactifluorum (Lobster Mushroom) fresh, dried
Lentinus edodes (Shiitake) dried, fresh, tea, canned
Morchella esculenta (Morel) fresh, dried
Tricholoma magnivelare (Matsutake) fresh, dried
Tuber magnatum (White Truffle) fresh
MUSHROOMS IN ASIAN GROCERY STORES
Agaricus blazei dried
Agaricus brunnescens (Portobello, Crimini, Button) canned, fresh, dried
Auricularia polytricha (Wood Ear, Black Fungus) dried
Cordyceps militaris (cultivated Caterpillar Fungus) dried, pills, liquid
Coprinus Comatus (shaggy mane) canned
Cordyceps sinensis (wild Caterpillar Fungus) dried, pills
Flammulina velutipes (Winter Mushroom, Enoki‑Take, Velvet Foot) canned, fresh
Ganoderma lucidum (Reishi, Ling Zhi) dried, tea, extract
Hericium sp. (Monkey Head) dried, fresh
Lentinus edodes (Shiitake) dried, fresh, tea, canned
Pleurotus ostreatus (Oyster Mushroom, Abalone Mushroom) canned, fresh, dried
"Puffballs" canned
Tremella fuciformis (White Fungus) dried
Volvariella volvaceae (Straw Mushroom, Paddy Straw Mushroom) canned.
MUSHROOMS IN ITALIAN GROCERY STORES
Agaricus brunnescens (Portobello, Crimini, Button) canned, fresh, dried
Boletus edulis (Porcini, Cep, Steinpilz, Borovici) dried, fresh
Cantharellus cibarius (Chanterelle) fresh, dried
Tuber magnatum (White Truffle) fresh
COMPREHENSIVE LIST OF MUSHROOMS IN URBAN GROCERY STORES
Agaricus brunnescens (Portobello, Crimini, Button) canned, fresh, dried
Agrocybe aegerita dried
Auricularia polytricha (Wood Ear, Black Fungus) dried
Boletus edulis (Porcini, Cep, Steinpilz, Borovici) dried, fresh
Cantharellus cibarius (Chanterelle) fresh, dried
Coprinus Comatus (shaggy mane) canned
Flammulina velutipes (Winter Mushroom, Enoki‑Take, Velvet Foot) canned, fresh
Cordyceps militaris (cultivated Caterpillar Fungus) dried, pills, liquid
Cordyceps sinensis (wild Caterpillar Fungus) dried, pills
Flammulina velutipes (Winter Mushroom, Enoki‑Take, Velvet Foot) canned, fresh
Ganoderma lucidum (Reishi, Ling Zhi) dried, tea, extract
Hericium sp. (Monkey Head) dried, fresh
Hydnum repandum (Hedgehog, Pied de Mouton) fresh
Hypomyces lactifluorum (Lobster Mushroom) fresh, dried
Lentinus edodes (Shiitake) dried, fresh, tea, canned
Morchella esculenta (Morel) fresh, dried
Pleurotus ostreatus (Oyster Mushroom, Abalone Mushroom) canned, fresh, dried
"Puffballs" canned
Tremella fuciformis (White Fungus) dried
Tricholoma magnivelare (Matsutake) fresh, dried
Tuber magnatum (White Truffle) fresh
Volvariella volvaceae (Straw Mushroom, Paddy Straw Mushroom) canned
Ustilago maydis (Corn Smut, Huitlacoche) canned, fresh in farmers' markets
blog comments powered by