(Also known as Secotium agaricoides; new name: Chlorophyllum agaricoides)
Puffball Agaric
Order Hymenogastrales, Family Hymenogastraceae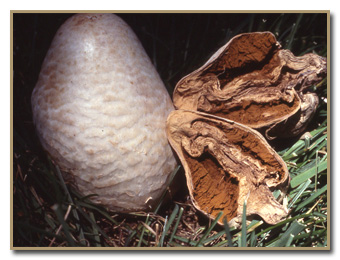 CAP OVAL, LARGE, TAN, NOT OPENING
Cap: 2-10 cm wide, 2-12 cm tall; pear-shaped to oval to roundish, base wider than apex; fibrillose, sometimes becoming scaly with age; white when young to tan in age; margin joined to stalk
SPORE MASS DISTORTED, NOT EXPOSED, BROWN
Spore mass: crowded distorted plates and chambers; white becoming brown, sometimes powdery in age
STALK MOSTLY INTERNAL
Stalk: mostly internal, sometimes a short stalk exposed below cap; extends to the top of the cap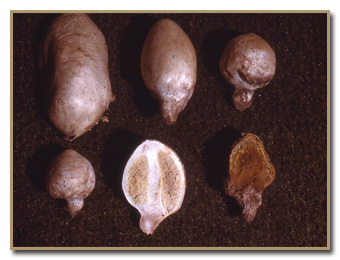 SPORE PRINT BLACKISH BROWN
Spores 6-9 x 5-7 µm, elliptical, smooth, thick walled, apical porelight brown
IN LAWNS AND GARDENS
EDIBLE WHEN YOUNG
Lookalikes:
Unexpanded species of Agaricus or Lepiota – they open up and this one does not
YOU ALSO MIGHT LIKE TO KNOW....

This mushroom resembles a gilled mushroom, but never opens up, like a puffball. It has been shown by DNA testing to be related to the genus Agaricus, which would put it in the order Agaricalels, family Agaricaceae, under the new name Chlorophyllum agaricoides.
blog comments powered by