Yellow Foot Agaricus
Order Agaricales, family Agaricaceae
CAP MOSTLY WHITE, SOMEWHAT ANGULAR WHEN YOUNG
Cap: 5 - 20 cm wide; at first somewhat square-shaped (resembling marshmallows), rounding and changing from convex to flat with age; mostly smooth and white, buff at center; strong odor of phenol. Bruises yellow, then turns brownish.
GILLS PINK-GRAY THEN CHOCOLATE
Gills: free; crowded; white then pink-gray then chocolate brown
STALK WITH YELLOW FLESH AT THE EXTREME BASE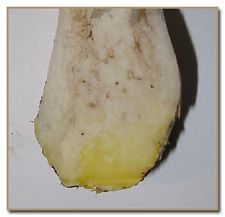 Stalk: 4-18 cm long, 2-3 cm thick; bright yellow flesh at extreme base when cut
Ring: partial veil thick with patches on underside, leaving large ring on stalk
SPORE PRINT CHOCOLATE-BROWN
Spores 4.5-6 x 3.5-4.5 µm, elliptical, smooth
IN FLOWER BEDS OR ON LAWN, often in large numbers
POISONOUS
Lookalikes:
Urban mushroom (A.bitorquis) -- no odor or yellow stain
Meadow mushroom (A. campestris) -- often smaller, no odor or yellow stain
Vomiter (Chlorophyllum molybdites) -- green spores
YOU ALSO MIGHT LIKE TO KNOW....

The human nose is as unpredictable as the human brain. The foul smell of this mushroom clearly brands it as poisonous -- and the smell intensifies with cooking. Yet some people eat it anyway, maybe because it looks like it should be edible. (It's fleshly and loosely resembles the common supermarket mushroom.) Or maybe it's because some people can't smell it or, worse, enjoy the yucky odor.

Anyway, those who eat A. xanthodermus experience the full range of symptoms -- from none at all to headaches, nausea, vomiting and diarrhea. One woman, who confused it with the horse mushroom, said it tasted great and "cooked up beautifully." Luckily, she did not get sick. Others say it tastes as awful as it smells. That is, if your nose gets it.
blog comments powered by